FAQ Live Matrix
1. Why is there a Traffic Light?
Traffic light is use for the ease of investors to know whether the issuer is keen to sell the warrant. For instance, a red colour warrant implies that the offer price of the warrant is increase or the inventory of the issuer might be close to selling out, hence, higher risk to trade on this warrant. Orange indicates that the warrants is selling hot and issuers has increased the offer price. Whereas green stating the warrant is good to trade with tight bid and offer spread.
Kenanga's Live Matrix informs traders of 3 things
(1) Prices - The warrant's bid/offer prices which correspond with its underlying bid/offer prices
(2) Traffic Light Feature

Red: Issuer is not keen to sell this warrant, but you can sell it back to Issuer at Fair Bid Price. Red means the market maker is not offering competitive Offer prices (Ask prices) at this level. So current prices may be inflated by speculators. This may be due to low inventory levels, a volatile market or because Issuer is not keen to sell this warrant.
Fortunately, a fair Bid price is maintained for you to exit your positions (sell your warrants) at a fair price.
Amber: TAYOD (Trade At Your Own Discretion) Be aware that Offer prices are increased by a few ticks.
Green: GOOD TO TRADE!
3) Grey-white zones - Colour coding allows traders to easily count the tick-sensitivity of the warrants & estimate how far or near the warrant is to its flipping point. This helps traders calculate ROI% for entry prices, target prices & stop loss prices.
(4) Pink for puts - The heading for each Live Matrix is coloured according to its type for trader's clarity.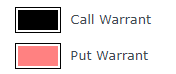 Black for call warrants & Pink for put warrants.
You can monitor 9 warrants with Live Matrix simultaneously on our new website.
2. Why has the Issuer opened a spread?
At Kenanga, we avoid opening a spread - as this may mean to drop the Bid price & increase the Offer price.
Instead, we maintain the Bid price & increase the Offer price.
This may happen when the warrant is running low or sold out on inventory, or is approaching expiry.
Picture this. Your left hand is the Bid price & your right hand is the Offer price.
When the Traffic Light is green, both hand are close, almost clapping.
When the Traffic light is Red, your left hand does not move, but your right hand moves to the right side.
This means you can always sell your warrant at a fair price, even when the Live matrix is Red.
3. What do I do if I bought a warrant when it was Green & now it is Amber/Red?
No problem because you can always sell it back.
4. What do I do if I really, really want to buy an Amber/Red warrant?Is the Live Matrix really "LIVE"?
We do not encourage investors buying red/amber warrants as they possess much higher risks to traders.
The Live Matrix is connected to our market-making system & displays live prices for the day. However. There is a few minutes of delay, so we recommend refreshing the website.
Look to the market for opportunities, and use the Live Matrix to engage with the corresponding Structured Warrants.